War and Peace (2016)
Widely regarded as one of the greatest novels of all time, War And Peace will be told over six one hour episodes
Gillian is Anna Pavlovna Scherer : Anna Pavlovna is a glittering society hostess. Her salon in St Petersburg is the place to be for gossip, scandal and speculation. Unmarried herself, Anna is much more interested in other people's affairs. She knows everything about everybody – and is more than happy to help her friends and allies Vassily and Helene in their schemes.

Director : Tom Harper : (Demons, The Scouting Book for Boys, This Is England 86, Misfits, The Borrowers, Peaky Blinders, War Book, The Woman in Black 2: Angel of Death…)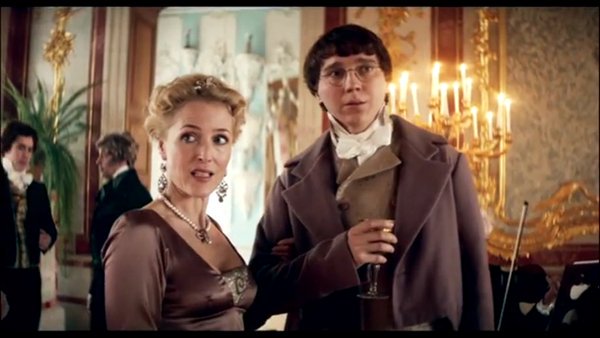 Writers : Andrew Davies and Leo Tolstoy.

Starring : Paul Dano ( Pierre Bezukhov), Lily James (Natasha Rostova), James Norton (Prince Andrei Bolkonsky), Tom Burke (Dolokhov), Stephen Rea (Prince Vassily Kuragin), Aisling Loftus (Sonya), Greta Scacchi (Countess Rostov), Adrian Edmonson (Count Rostov), Jack Lowden (Nikolai Rostov), Jim Broadbent (Prince Nikolay Bolkonsky), Rebecca Front (Anna Mikhaylovna), Kenneth Cranham (Uncle Mikhail), Mathieu Kassovitz, Aneurin Barnard (Boris Drubetskoy), Aurélien Wiik (Napoléon Bonaparte), Tuppence Middleton (Helen Kuragin), Callum Turner (Anatole Kuragin), Ben Lloyd-Hughes (Tsar Alexander), Brian Cox ( General Kutuzov), Ken Stott (Bazdeev), Jessie Buckley (Princess Marya), Thomas Arnold (Denisov), Fenella Woolgar (Catiche), Chloe Pirrie ( Julie Karegina),  Matthew Raymond (Nesvitsky), Kate Phillips (Lise)…
 Promo :
gillian anderson on 'war and peace'
Had you read War & Peace before you took on the role?
I've had the book in my iBooks for a long time, I decided one day to download it, but I had never read it before starting to work on this. Because I'd heard daunting things said about the novel I approached it with a certain amount of reverence and fear and actually have been pleasantly surprised that it's incredibly readable and interesting. It's also fascinating about real history and I feel like I've learnt quite a lot from it that I didn't know.
Tom (Harper) is encouraging people to study the original and to use it to further delve in to characteristics of their character.
Tell us about this adaptation…
One of the things that Andrew is particularly good at is keeping the bulk of text and maintaining many of the characters. Andrew's always reverential, he has a great respect for the pieces he takes on and you can absorb that from the text.
Even though the story is set in the 1800s, there's still war and love, romance and betrayal running through it. It's the same as with Shakespeare and other great novels in history, they stand up because they are about relatable subjects. War & Peace is chock full of relatable subjects. There's also an extraordinary cast of young, very attractive and talented actors.
Tell us about Anna Pavlovna…
Anna Pavlovna is a socialite and holds salons during the course of the tale of War & Peace. A good deal of the action takes place at these salons, particularly matchmaking and politics with a small p. I like her brazenness and cheekiness, throwing balls, matchmaking and always with something to say.
What attracted you to the role?
The chance to work on a piece like War & Peace is extraordinary in itself. Having it made by the BBC and The Weinstein Company, Andrew Davies doing the adaptation and the cast that came together, plus the fact that my role happened to fit exactly in my schedule, was a very big part of it. Also being able to pop to St Petersburg for a few days of history and fun with fellow actors, and to get to work with Tom Harper, all of that really. It was fun.
Trailer : 
Awards
2017 : BAFTA CRAFT AWARDS : PRODUCTION DESIGN AWARD