Sold (2016)
A girl risks everything for freedom after being trafficked from her mountain village in Nepal to a brothel in India.
Gillian is  : Sophia, a photographer whose life accidentally gets intertwined with a girl who gets sold in Nepal. She  attempts to hunt down the girl, who is being transported to a brothel in India, and bust the trafficking network.
Director : Jeffrey D. Brown (Molly's Pilgrim, The Wonder Years…)
Writter  : Joseph Kwong (adaptation du roman de Patricia McCormick).
Cast :
David Arquette (Sam), Niyar Saikia
( Lakhsmi)
, Tillotama Shome
 (Bimla),
Seema Biswas
 (Amma),
Priyanka Bose 
(Monica),
Parambrata Chatterjee
 (Vikram),
Sushmita Mukherjee
 (Mumtaz),
Neerja Naik
 (Anita),
Ankur Vikal (
Varun),
Himanshu Tyagi 
(Suren),
Seirah Royin
 (Mrs Tripathi),
Gopi Desai 
(Diya),
Saksham Dayma
 (Tanak),
Ratnabali Bhattacharjee
 (Pushpa), Tanaji Dasgupta (Jai),
 Jessica Dhillon (Jessica)
…
Websites :
Trailer :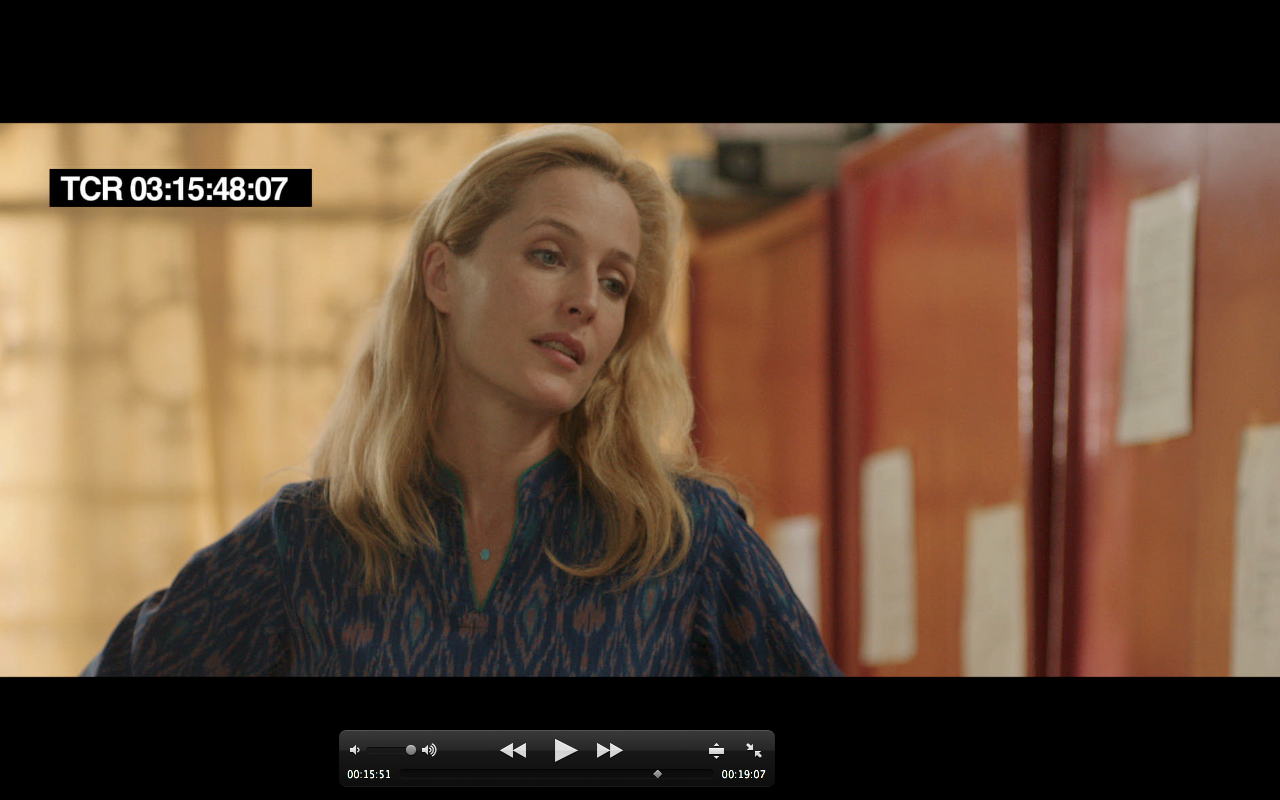 Behind the scenes :
Promo :
NEW ORIGIN MAGAZINE
Gillian Anderson: Golden Globe + Emmy-winning actor, star of SOLD On the Global Business of Selling Children for Sex, Generating Billions of Dollars Every Year, and the Everyday Horrors of Human Trafficking in Her New Film, SOLD
It's a proven fact that when you raise the status of girls and women in a country, that country does much better economically.
Interview: Maranda Pleasant
Maranda Pleasant: Your new film SOLD deals with the horrors of human trafficking. How deeply does this issue affect you emotionally?
Gillian Anderson: I simply cannot fathom the horrors of being enslaved, and the thought that children are ripped apart from their families and used year in and out for sex and hard labor under the threat of violence and death breaks my heart.
MP: Was there something you learned about human trafficking that you didn't know before you started the film?
GA: That human trafficking is a globally assisted pandemic that generates billions of dollars of income a year.
MP: What is one of the most shocking things about trafficking that you learned?
GA: There are so many shocking things. Is it more shocking that there are children sold into slavery in every city in the world and right under our noses or that there are villages in Nepal where there are no children left because they have all been kidnapped for sex trafficking, or that there are generations of slaves in some countries where indentured slavery passes from generation to generation and that kids grow into adults not knowing that another world—another life—exists?
sold-film-by-gillian-anderson-1
MP: Why is it so important that we empower women + girls right now?
GA: It is always important, but right now the topic of female empowerment is at the forefront of conversation and it's important we take advantage of the trend while there is added pressure to adjust long-standing beliefs, prejudices, and cultural discrimination.
MP: How are girls/kids viewed in this world and do you think there's a global epidemic of disregarding women?
GA: Unfortunately, the belief that women are a minority is endemic in most cultures around the world. Obviously some take it to the extreme where violence against women is legal and supported and in other cultures it is more subversive and easy to dismiss as "progress."
MP: How can we get involved and shift things? What can we do?
GA: We have to raise the status of girls and women in every country. It's a proven fact that when you raise the status of girls and women in a country, that country does much better economically. Education is key. We have to keep girls in school and give them the same opportunities that boys have. They need access to vocational training and mentorship, as well. It's an issue of gender equality, which is fortunately a hot topic right now, but we need to keep at it and not rest on our laurels. There's a lot of work to be done.
'X-Files' star combats human trafficking in new film 'Sold'
This New Film Exposes the Heartbreaking Reality of Sex Slavery and 'Debt Bondage' Around the World
"Film can change the world": The Lid is On, with Gillian Anderson
'SOLD' brings brutality of child sex slavery to screen
THE TODAY SHOW 
A successful pre-release screening of SOLD at the Skirball Cultural Center LA with Gillian Anderson and David Arquette in attendance. The team is now planning for the March/April theatrical release. Stay tuned for dates near you. #TaughtNotTrafficked Sold the Movie – avec Jeffrey Brown, Gillian Anderson, David Arquette et Jane Charles.

Gillian Anderson on why you should see "Sold"
Gillian Anderson wasn't expecting to appear in the movie "Sold." The actress, known for her role on "The X-Files," had initially been approached by Oscar-winning director Jeffrey Brown ("Molly's Pilgrim") about just being part of the film's campaign.
She immediately said yes because she felt passionate about the movie's topic: the worldwide human rights issue of sex trafficking.
"There was really no role in it. There was one shot of a woman photographer. But [Brown] asked, would I read it? And if I liked it, would I be interested in being a part of the campaign. It looked like Emma [Thompson] might be jumping on board as well — just to lend a voice and a name to an important cause. I read it and I said, 'Absolutely. I'll do whatever I can.'"
Some time went by, and Brown ended up calling Anderson back — but with a different ask.
"By the time they ended pulling it together, Jeffrey had expanded the photographer character and modeled her after a real-life photographer Lisa Kristine, who documents human slavery around the world … And he called and said, 'Would you read it again? Do you have time to actually be in the film?' I happened to be able to carve out a week in India to do it," she said about taking on the role of a photographer in "Sold."
Based on the international bestselling novel by Patricia McCormick, "Sold" (which also stars David Arquette), chronicles the life of an 13-year-old girl who is trafficked across the Nepal-India border and forced to work in a brothel in Kolkata, India.
"I don't think a lot of people fully realize what an industry sex trafficking is in the world. Forced labor, child labor and sexual exploitation generate about $150 billion every year," said Anderson. "It's all ages — from toddlers to teenagers."
"On the one hand it's easy to disassociate because it's on the other side of the world. But the fact is what the campaign is bringing to the light is that it's also in our own backyard," she said, citing places like Washington D.C. and New Jersey.
"High school students go missing and they are either forced into indentured labor or forced into prostitution where there is violence and they don't get paid for being a sex slave," continued the actress. "And they get brainwashed into being a part of a community and they are terrified for their lives to escape — and even sometimes when they do escape for how they are then treated like criminals when they are picked up by law enforcement. They end up going straight back into it … It needs attention."
Anderson is helping spread the word about the film via a newly launched Indiegogo campaign, which will help raise funds to get "Sold" seen in more places around the world. The money raised will support a team to manage the film's outreach campaign, TaughtNotTrafficked, an education campaign to prevent child trafficking in high-risk areas.
Gillian Anderson: "Sold is an important voice in the shouts against human trafficking."
Gillian Anderson: Sold is an important voice in the shouts against human trafficking.Showcasing as the Opening Night film for the London Indian Film Festival is Sold, which tells the story of one girl who becomes a victim of human trafficking. Set in India and Nepal, where many such stories take place, Sold is about an extraordinary thirteen year old girl named Lakshmi. To her horror and ours she is sold into prostitution. Though she has lost her freedom and must cope with degradation at the hands of both clients and captors, Lakshmi retains her personal sense of honor and dignity. Lakshmi begins to put a plan in motion, and hopes to become one of the lucky ones to break the chains and escape – but first she must be willing to risk her life. It is the indomitability of her spirit that forms the heart of Sold.
Produced by Emma Thompson, along with Jane Charles, the Jeffrey D Brown directed film is based on the book Sold by Patricia McCormick, and it stars Gillian Anderson, David Arquette along with a great Indian and Nepali ensemble cast including Seema Biswas. The glamorous premiere happens on 10th July, and actress Gillian Anderson will be walking down the red carpet and will also take part in a Q&A after the film's screening. We were very lucky to catch Ms. Anderson on a break from her show in New York to talk about her experiences shooting for Sold. She also revealed her thoughts on this moving and powerful film and what she hopes it will do to shine a light on the tragedy of human trafficking.
 How did you become a part of the project?
I knew Jeffrey from another project and he asked if I would jump on when the character had one line before he met Lisa and grew the role to embody her and her important work.
What made you want to be a part of the film Sold?
I loved the script and felt that it was an important voice in the shouts against human trafficking and was determined to make it work with my schedule.
Did you know that human trafficking was such a huge worldwide issue and tragedy?
I had no idea it was the pandemic that it is.
Tell us about your character in the film.
Gillian Anderson: Sold is an important voice in the shouts against human trafficking.Tell us about your character in the film. Sophia is modeled really on the humanitarian photographer Lisa Kristine. She is an astoundingly talented photographer and a very courageous humanitarian bearing witness to the atrocities of human slavery world-wide. I attempted to embody a modicum of her compassion, grace and light in the character.
How did you prepare to play this role?
I researched the facts around the issue and had conversations with Kristine – really that was all.  
Were you part of the workshops and meetings with the girls that had been rescued as part of the preparation for the film? What was that experience like?
I met with young girls at some of the shelters that we visited. It was not appropriate for me to ask them to divulge their stories but they are the same stories everywhere and they are all horrible.  
Tell us about your experiences shooting in India.
I have been to India many times but have never filmed there before. I have witnessed over the years that one needs great patience to live in India but discovered one needs greater patience to film there! Nothing like filming in America or the UK. Jeffrey handled it brilliantly and was generous and kind and courteous no matter what the days stresses presented.
What did you take away with you from making this film?
A passion for the city of Calcutta and a fury about the fact that hundreds and thousands of girls and boys just like Lakshmi have to face the horrors you see in this film, everyday.
When I spoke to both Jane Charles and Jeffery D Brown, through every word you could feel the passion they have for this project and this issue, what was it like working with them?
They have both dedicated their lives now to this film and the greater cause. It is because of their passion that the film is getting the attention that it is and people are finally learning about what is happening in their own back yards. I really hope that it makes a difference.  
It is making its European Premiere at LIFF, what are your thoughts on that and hopes for the film there?
I live in London and am very pleased and proud that this film is standing up and making noise in my home town. A great festival to be a part of.  
What are your hopes for the film?
That it causes enough waves that change is made. Governments around the world need to take it seriously and get involved on a monumental scale. Change cannot happen if the reality of the situation is kept in the dark. A light needs to be shined on the whole sad truth of it. BollySpice would like to thank Gillian Anderson for taking the time to speak with us. Stay tuned as we have two additional exclusive interviews with producer Jane Charles and director Jeffrey D Brown.
https://www.youtube.com/watch?v=YjtJryqT0kw
Tell us about your role in Sold and why you took it on?
I play Sophia a humanitarian photographer who travels to India to document the business of trafficking humans.
What kind of homework went into preparing for the role?
I familiarised myself with the trafficking issue for the first time and with the work of humanitarian photographer Lisa Kristine.
Were you aware of the issue of human trafficking and did the experience of visiting India and shooting this film change your perspective in any way?
I was not aware that the issue was as extreme as it actually is. The film and my experience in India and in the homes for rescued children where we met survivors, did indeed change my perspective. There we saw beautiful young lives that have been forever marked by this terrible situation they were not protected against and yet they persevere. But it is complicated. The shelters need funding and the girls (mostly) and boys need encouragement. It is hard for them to be motivated to turn up for school or to see much point in doing anything when they have been betrayed so badly in the past. They need to have people around them they can fully trust who can motivate them to make something of their lives and one of those vital avenues is through education.
Was this your first visit to India?
No, I have been to India many times before as a tourist and loved it.
That apart, what was your experience of living and shooting in Calcutta? Did you get to shop and eat at any interesting places during your free time?
I fell in love with Calcutta and very much want to go again. I ate a lot of sweets! Which Calcutta is famous for. We see in one of the photographs from the film that you've slipped into the blue and white sari that defines Mother Teresa.
How did it feel?
Hot!
From supporting children with tumours to being an active member of PETA to advocating for the LGBT community, what has made you sign up for so many different humanitarian causes over the years?
I always feel like I could be more involved. And I think that as time goes on my focus will strengthen in the area of trafficking issues. It is the largest growing black-market industry and that is just a horrendous fact. Governments must do more to make it harder for humans to be trafficked and enslaved.
Who do you look up to for inspiration?
Usually women who are making a difference in the world. Malala Yousafzai is a great force for good and at such a young age. Lisa Kristine, who my character is based on, puts her own life in danger on a regular basis to document and bear witness to the unfair treatment of others.
Do you remember auditioning for The X-Files?
Yes, very clearly. It was a very stressful situation at the time with all the actors waiting in the same hallway together before going into the very small room to audition in front of a whole lot of producers.
How much of a life-changer has that series been for you?
Well, when I first got the job I had completely run out of money and was sleeping on someone's couch so moving up to Vancouver Canada to shoot the series and have my first proper paycheck was a very big deal and completely changed my life around.
Is there another The X-Files movie in the offing?
There will be something but we are not sure when.
What else do we get to see you in next?
The second season of The Fall, a US series called Crisis, and a movie called Robot Overlords (a science fiction film starring Ben Kingsley).
Times of India : Interview de Jeffrey D Brown
Reviews : 
http://www.asiana.tv/entertainment/film-review-sold-london-indian-film-festival
http://bollyspice.com/86007/liff-special-movie-review-sold
Awards : 
2014 : ALBUQUERQUE FILM FESTIVAL : Best Narrative Feature
2014 : LONDON INDIAN FILM FESTIVAL : Audience Award for Best Film
2014 : RIVER TO RIVER FILM FESTIVAL IN FLORENCE : Audience Award
2015 : PALM SPRINGS FILM FESTIVAL : Audience Best of Fest pick
2015 : SONOMA FILM FESTIVAL : World Drama Audience Award.
2016 : WASHINGTON ASIAN FILM FESTIVAL : Best Picture