The X-Files (Mini-series) 2016




 
Rôle : Dana Scully
*Episode 1 : My Struggle
Written and Directed by Chris Carter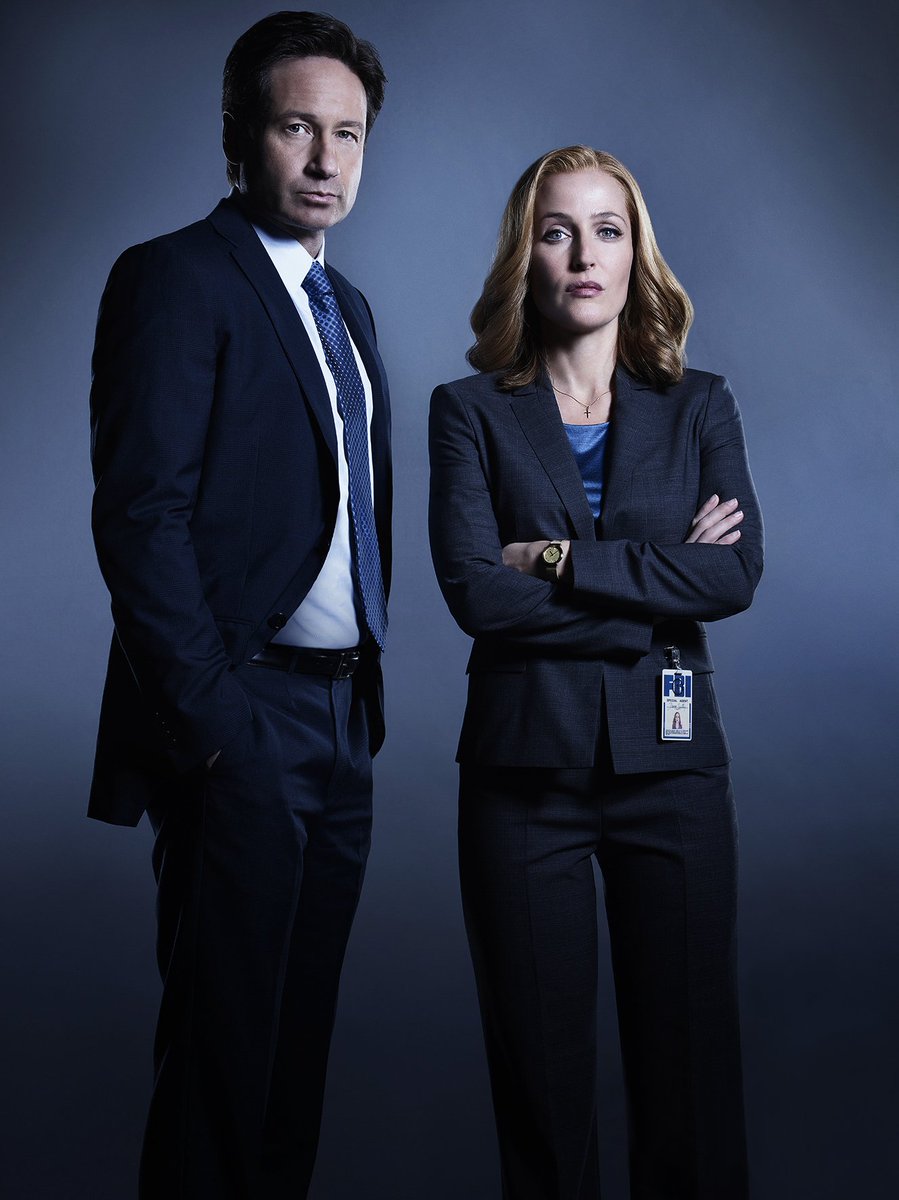 Starring : David Duchovny (Fox Mulder), Mitch Pileggi (Walter Skinner), Joel McHale (Tad O'Malley), Annet Mahendru (Sveta), William B Davis (Cigarette Smoking Man), Rance Howard (Old Man), Hiro Kanagawa (Garner)…
*Episode 2 : Founder's Mutation
Written and Directed by James Wong
Cast : David Duchovny (Fox Mulder), Mitch Pileggi (Walter Skinner), Doug Savant (Augustus Goldman), Jonathan Whitesell (Janitor), Rebecca Wisocky (Jackie Goldman), Chris Logan (Dr. Sanjay), Omari Newton (Rogers), Nikolai Witschl (Dr. Hill), Alison Wandzura (Cynthia), Aaron Douglas (Lindquist), Vik Sahay (Gupta), Ryan Robbins (Murphy), Christine Willes (Sister Mary), Kacey Rohl (Agnes), Craig March (Detective Gordon), Megan Peta Hill (Molly)…
*Episode 3 : Mulder and Scully Meet the Were-Monster
Written and Directed by Darin Morgan
Starring : David Duchovny (Fox Mulder), Rhys Darby (Guy Man), Kumail Nanjiani (Pasha), Richard Newman (Dr Rumanovitch), Tyler Labine (Stoner #1), Nicole Parker-Smith (Stoner #2), Alex Diakun (Manager), D.J. "Shangela" Pierce (Annabelle).
*Episode 4 : Home Again
Written and Directed by Glen Morgan
Starring : David Duchovny (Fox Mulder), Mitch Pileggi (Walter Skinner), Sheila Larkin (Margaret Scully), Tim Armstrong (trashamn), Daryl Shuttleworth (Daryl Landry), Peggy Jo Jacobs (Nancy Huff), Alessandro Juliani (Joseph Cutler), Chris Shields (Detective Dross), Gary Sekhon (Forensic Tech), Sachin Sahel (Jack Budd), Veena Sood (Dr. Louise Colquitt), Jannen Karr (Nurse Taillie), Seth Whittaker (Fitzpatrick) , Daniel Jacobsen (Proudley).
*Episode 5 : Babylon
Written and Directed by Chris Carter
 Starring : David Duchovny (Fox Mulder), Robbie Amell (Agent Miller), Lauren Ambrose (Agent Einstein), Mitch Pileggi (Walter Skinner), William B. Davis (Cigarette Smoking Man), Artin John (Shiraz), Garry Chalk (Mad Dog), Marci T. House (Angry Woman), Eric Breker (SP Agent Brem), J. Alex Brinson (FBI Agent Guard), Bruce Harwood (Byers), Tom Braidwood (Frohike), Dean Haglund (Langly), Nina Nayebi (Noora) and Janet Kidder (Nurse).
*Episode 6 : My Struggle II
Written and Directed by Chris Carter
Starring : David Duchovny (Fox Mulder), Mitch Pileggi (Walter Skinner), William B. Davis (Cigarette Smoking Man), Annabeth Gish (Monica Reyes), Joel McHale (Tad O'Malley), Robbie Amell (Agent Miller), Lauren Ambrose (Agent Einstein), Julian Christopher (Dr. Oscar Griffiths) and Aliza Vellani (Nurse Sandeep).
Promo :
NEW
David Duchovny & Gillian Anderson On Reopening 'The X-Files' And The Possibility Of More – Awardsline
FOX wants more 'X-Files,' but Gillian Anderson says 'I don't know'
Gillian Anderson Plays "F–k, Marry, Kill" With Famous Aliens and Nothing Will Ever Be the Same
Gillian Anderson Talks X-Files Return
'The X-Files': Gillian Anderson and David Duchovny on Finding Their Groove Again
'The X-Files' Gillian Anderson: 'I'd buried Scully pretty deep'
Mulder And Scully On Why The World Is Ready For An 'X-Files' Reboot
Gillian Anderson Reveals the Hardest Part of the "X-Files" Reboot
Gillian Anderson: 'If X-Files fans aren't put off by our walking sticks, fantastic'
IT TOOK GILLIAN ANDERSON 10 YEARS TO APPRECIATE THE X-FILES
Anderson Looks Ahead to 'X-Files,' Back on 'That' 'Hannibal' Scene
Gillian Anderson: I Was Offered Half Duchovny's Pay for 'The X-Files' Revival
Gillian Anderson on The X-Files, War and Peace and Charities
'The X-Files': David Duchovny and Gillian Anderson Return to the Paranormal Beat (NY Times)
How Gillian Anderson Learned to Appreciate The X-Files as a Fan
GQ interview : Gillian Anderson Answers All Your Questions about the New X-Files Revival
And tries some X-tra hard X-Files trivia.
Next Sunday Gillian Anderson and David Duchovny are back as agents Scully and Mulder, and we're so ready—like 15-years-waiting-for-something-to-believe-in ready. We paused in rewatching all nine seasons to ask Anderson our most pressing questions about the new season.
GQ: Do we call it a miniseries or a reboot?
Gillian Anderson: I guess it's a miniseries, but sometimes these miniseries become full series, so I don't know! I guess it depends on where we go with it.
Did you or David Duchovny sign on first?
David was very enthusiastic from the inception—he, I think, was involved in actually making it happen. So he was in from day one.
Did you take some convincing?
Definitely took some convincing.
Why?
I felt like I was doing enough TV, and I was already committed to a couple of other series. I was interested in having more of a balance. And also when we used to do the series, it meant 24, so the idea that Fox would be interested in a shorter amount had not been a part of the conversation yet. That was a deciding factor as well.
Was that what ultimately sold it for you?
Yeah, it was not feasible any other way. Once it looked like that would be a possibility, I started to get more excited about the prospect of the whole thing and how cool it might be to be a part of it again.
What's the danger with reviving such a beloved show a decade after the fact?
The danger is that nobody cares anymore, or if we get it wrong and it's not interesting. But there's always a risk of that no matter what you're involved in.
I've sensed a swell in loyalty to The X-Files from people who didn't watch it live. The Netflix wave. How do you account for that?
On the one hand I don't know, because it feels like what we did is now quite dated. I don't know what it's like to be a new fan of something that old. The accessibility and the immediacy of what Netflix offers is obviously an expectation these days, and the fact that we can so easily be downloaded makes it seem like a fresher idea than if somebody were buying DVDs and sticking them in the machine. There does seem to be a very big excitement from all ages, which is really cool.
What do we lose or gain from binge-watching the show?
A lot of the episodes are standalone episodes, so it's not like there's necessarily a through-line that is satisfying when binge-watching. So I'm curious myself about what is it about the show—even though they're standalone—that gives you the impulse to watch another one. I don't know how much of it is just because they can. Is that enough of an excuse?
Why has there been this de-nerdification of sci-fi as a genre?
Sci-fi is apocalyptic, and we are definitely by our own hand getting closer to the end of the world. Maybe it's also that we've become so obsessed with escapism, and sci-fi is one of the best escapes. It just completely obliterates those petty mortgages, and the rising cost of school fees, and the fact that ISIS is taking over the world.
Is the new miniseries going to tap into some of the anxieties we have?
Definitely. Chris [Carter] loves that. It taps into the Zeitgeist, and it taps into paranoias and paints them as things that are in the future, so it's easier to not get arrested for discussing them.
What's one thing that's new about the miniseries?
We have cell phones that fit into our pockets, and we have flashlights that actually fit into our pockets, rather than pulling out something as if we pulled it out of our pockets but clearly it could not have fit in our pockets.
And shoulder pads?
There will not be shoulder pads in any way, shape, or form.
Bummer.
Such a shame.
Do you ever go back and rewatch episodes?
No, you know, I don't. There have been a couple moments in the last decade when something has taken me back, like there was a point when I had made a new friend in London and she hadn't seen any. I did attempt to introduce my younger boys to it, to my favorite episode and what I thought was the mildest, and they had nightmares. I just showed them "Bad Blood." It didn't go down very well.
Is that your favorite episode of all time?
It makes me smile. That's the one that sticks with me, even though it wasn't as enjoyable for my sons.
Is the preoccupation with a romance between you and David Duchovny just an American thing?
I don't think so. I mean, nothing is just anything anymore, it's such a global community, and fandom is more and more a global community, so I've never noticed whether the response to interest in that area is U.S.-heavy.
I recently watched The Fall; what do you think has made you the natural choice for now two iconic cop roles?
I guess I look like I know what I'm talking about. Somebody might look at me and believe me or obey me. I look obey-able.
How would you do as an actual cop?
I would suck. I have a really crap memory, and I can tell you certain things—weird and creepy things about rooms—but not useful information. My report back would be on what shades the walls were, the specific color, rather than that there was a tiny bloodstain behind the freezer.
In that vein, we have a few trivia questions for you.
Oh, my God.
Which part of Bryan Cranston explodes in the episode "Drive"?
"Oh, his head!"
Correct!
Which part of his head specifically?
"Was it his left side? Facing the window?"
Correct!
What was the first episode in the series to provide a viewer-discretion warning?
"Is it 'Home'? It was banned in Minnesota or something."
Correct!
What was Mulder's apartment number?
"Are you kidding me? Was it 1013? That's [screenwriter] Chris Carter's birthday."*
Incorrect. (*Nope, but the truth is out there. (It was 42.))
In the episode "Never Again," who does the voice of the possessive talking tattoo?
"Jodie Foster."
Correct!
The creature in the episode "The Post-Modern Prometheus" is called…?
"Bob?"*
Incorrect. (*The Great Mutato.)
It's been 14 years since the finale of The X-Files, the network TV show that presaged the HBO revolution, which presaged, well, just about everything good on TV today. Now agents Mulder and Scully are returning to Fox for "a six-episode event," premiering January 24. Its star Gillian Anderson takes time to reminisce.
You're returning to the stage in March to play Blanche DuBois in a production of A Streetcar Named Desire. Imagine an episode of The X-Files by Tennessee Williams.
I don't think there's enough drinking and on-this-planet historical drama to warrant his direction.
Speaking of drama, you brought a very restrained quality to Scully. You're not an actress prone to histrionics.
Until Blanche [Laughs]. I don't know if it's a style as much as the way I convey emotions. I'm a quiet person.
The X-Files was one of the most influential dramas ever. Did you have any qualms about revisiting it? A couple of people have said, "But you fought so hard to get away from her! Isn't this going to drag you back?"
I don't see it that way. I see it as a celebration of what we created then and a farewell, giving that fan base another taste of what they claim they've been missing.
Did playing Scully for more than 200 episodes make you a better actor?
I started off so green and crap. I think both David Duchovny (below left) and I at times have come at this with a certain degree of prejudice. I don't know if it's the fact that it's in the realm of science fiction, or because we had other ideas of what is worthy and meaningful to us, but the work I've done since feels more in line with what I'd always wanted to do. I don't think of that period as being a time of acting. It almost feels like my time of growing up.
Your roles as icy Stella Gibson in The Fall and Lady Dedlock in Bleak House reflect strong women who overcome major obstacles. Was that a conscious choice?
Roles without complexity just don't interest me. I don't see Scully as being particularly complex, yet she continues to represent such an iconic female presence in TV. She's outspoken, powerful — attributes common to women, but that were uncommon in women characters at the time. At the same time, she was just one of us. I don't think Stella is. I don't know how normal she is.
I wouldn't want to have a drink with her. She'd be terrifying. On the other hand, Scully might be a little boring — it might be a half-hour drink. Whereas Stella could drink you under the table.
Empire : David Duchovny and Gillian Anderson talk The X-Files revival
Esquire : Here's How The X-Files Reboot Got Made
The X-Files' Gillian Anderson, David Duchovny on the Beginning and the End (?) of Mulder and Scully
When 'The X-Files' Became A-List: An Oral History of Fox's Out-There Success Story
STARBUST
TIME : 8 Questions With Gillian Anderson
The star of The X-Files on why she agreed to take on a new case
Whose idea was that?
It was first brought up by a fan at New York Comic Con in 2013. My reaction was "Over my dead body."
So what changed your mind?
It was that we were doing six [episodes] instead of 24. To me, somebody saying, "Do you want to do The X-Files?" meant signing my life over. It wasn't until the commitment was less than eight episodes that I could consider doing something, based on my other commitments—including children!
The series was perfect for its moment in the 1990s. How does it fit into 2016?
There are a lot of topics in the dialogue today that are excellent fodder for our show. And the nature of social media and the fact that it's a Democrat in the presidency contribute to a certain freedom of speech around current events that makes it possible for us to push buttons.
So you need a real-life Democratic President in order to tell a conspiracy-theory story?
Were we trying to get the show up and running during the Bush presidency, we would not be able to have some of the conversations. The broadness of story lines has expanded to such a degree that anything can be discussed in the world of art in the West right now. Anything is possible.
You haven't worked with David Duchovny since 2008's X-Files film. How does your chemistry stay intact over a hiatus?
It's got nothing to do with us. It is beyond. It existed there through the years of us being mad at each other, not talking to each other. Whatever was going on with us, it was there and tangible. It materializes. It precedes us. Does it purely exist so that the show can exist? Maybe.
In 2016, you're also appearing in a miniseries adaptation of War and Peace. Have you read the book?
I started reading War and Peace when I received the offer to do it, scrambling to get it read in time. But there's a certain point where there is a script you're working with that is going to have its limitations. At what point am I servicing myself by loading in all this information, and at what point am I making it too difficult, and should let go and embrace what exists in front of me?
Has playing Dana Scully made you more open to the idea of extraterrestrial life?
I've always been a believer. I've been a believer in many different realms of alternate reality, the human capacity to move out of different planes of reality. It's something that has been with me since I was a child.
Scully blazed a deep trail as a feminist hero. Do you see characters like her on TV today?
The path that Scully carved for women in television is still dug in. There might not be anyone right now who specifically resembles Scully, but she was one of the first of her ilk. If you see a quote-unquote strong female character in a TV series, you're on the same path.
This appears in the December 28, 2015 issue of TIME.
Gillian Anderson on "The X-Files" revival: "It was like getting on a bike again"
Télécâble
Gillian Anderson kills with TV takeover
Gillian Anderson Teases X-Files Revival: 'It's Strange to Be Back Here'
Behind the scenes :
With Kumail Nanjiani