Hannibal (2013-2014 : Season 1 & 2)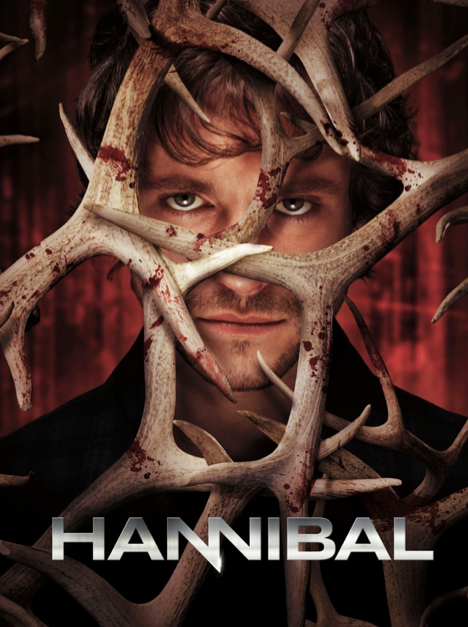 "Grieving is an individual process with a universal goal. The truest examination of the meaning of life and the meaning of it's end." Facebook Hannibal
HANNIBAL explores the early relationship the renowned psychiatrist and his patient, a young FBI criminal profiler, who is haunted by his ability to empathize with serial killers.
Rôle : Bedelia du Maurier, la psychothérapeute d'Hannibal Lecter.
Bryan Fuller : "Every therapist needs their own head examined and we are ecstatic that Gillian Anderson has chosen Hannibal to mark her return to American television after 10 years to portray Dr. Lecter's personal psychiatrist,"Her intelligence and sophistication, not to mention her pedigree of ground-breaking TV, make her the perfect actress to match wits and psychological manipulations with one of the greatest villains of pop culture. I couldn't be more excited."
Scénaristes : Bryan Fuller
 SEASON 2 
*Épisode 1 : Kaiseki
Réalisateur : Tim Hunter
Distribution : Mads Mikkelsen (Dr Hannibal Lecter), Hugh Dancy (Special Agent Will Graham), Laurence Fishburne (Special Agent Jack Crawford), Caroline Dhavernas (Dr Alana Bloom),  Scott Thompson (Jimmy Price),  Aaron Abrams (Brian Zeller), Hettienne Park (Beverly Katz), Cynthia Nixon (FBI Investigator Kade Prurnell), Raul Esparza (Dr Frederick Chilton), Jonathan Tucker (Matthew Brown)…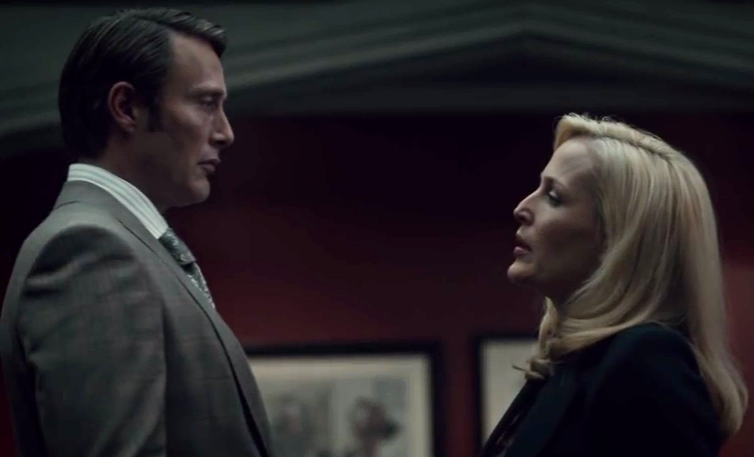 *Épisode 2 : Sakizuki
Réalisateur : Tim Hunter
Distribution : Mads Mikkelsen (Dr Hannibal Lecter), Hugh Dancy (Special Agent Will Graham), Laurence Fishburne (Special Agent Jack Crawford), Caroline Dhavernas (Dr Alana Bloom),  Scott Thompson (Jimmy Price),  Aaron Abrams (Brian Zeller), Hettienne Park (Beverly Katz), Cynthia Nixon (FBI Investigator Kade Prurnell), Martin Donovan…
*Épisode 12 : Tome-Wan
Réalisateur : Michael Rymer
Distribution : Mads Mikkelsen (Dr Hannibal Lecter), Hugh Dancy (Special Agent Will Graham), Laurence Fishburne (Special Agent Jack Crawford), Caroline Dhavernas (Dr Alana Bloom), Scott Thompson (Jimmy Price), Aaron Abrams (Brian Zeller), Lara Jean Chorostecki (Freddie Lounds), Katharine Isabelle (Margot Verger), Michael Pitt (Mason Verger), Daniel Kash (Carlo Deogracias)…
AVC: Bedelia returns in this episode. You said in one of our earlier interviews you had a part of this story you wanted her to play out. What was important to you about getting her back in to the last section of this season? BF: We had set up this whole storyline with Bedelia that we were going to do in this episode, and it is only due to Gillian Anderson's absolute dedication to the show, because she was doing Crisis and The Fall concurrently with this. We had no business getting her back at all, and the way it worked out is that she had one day between finishing Crisis before starting The Fall, so she literally wrapped production on Crisis Saturday morning at, like, 3 a.m. or 4 a.m., got on a 9 a.m. flight from Chicago to Toronto, landed in Toronto at 10, and was on stage, in front of the camera, by noon. And we had her for six hours before she had to catch her next plane, so she could arrive in Ireland to get her wardrobe fitting on Sunday before she started shooting The Fall on Monday. It was crazy that we got her, and it was only because she was like, "I love this character. I love working on this show. I'm treated very well on this show. I want to come back and continue to be Hannibal Lecter's therapist, because it's a ball." We had a much bigger story originally conceived where Will Graham was going to go into that case of her patient, who was Hannibal Lecter's former patient, who attacked her and ended up dying mysteriously halfway through the attack, which saved her life. That was all going to be this very elaborate kind of Extremities-esque episode where Will Graham was going to be decriminalizing those events, essentially portraying the patient who attacked her and figuring it all out, that she, in fact, killed him. It wasn't Hannibal Lecter. And the reason she had been keeping secrets all along and Hannibal painted her into this corner where she was complicit in his crimes to keep her silent was because she actually killed a person. It was going to be a much bigger story, and it became a game of Name That Tune in six notes, two notes. Can you name that tune in two scenes? It was originally going to be a full episode. We boiled it down to two scenes and were only able to get those two scenes because Gillian Anderson broke her back to give them to us. avclub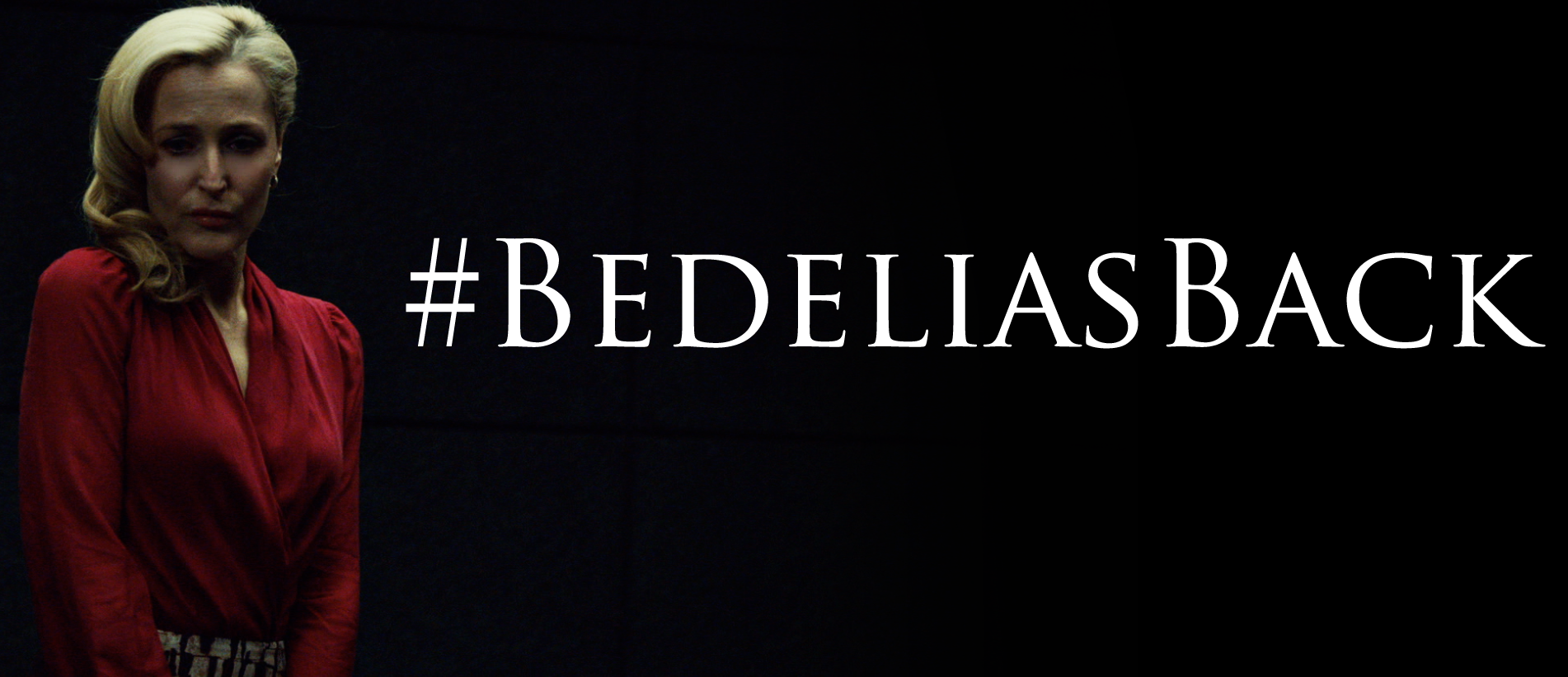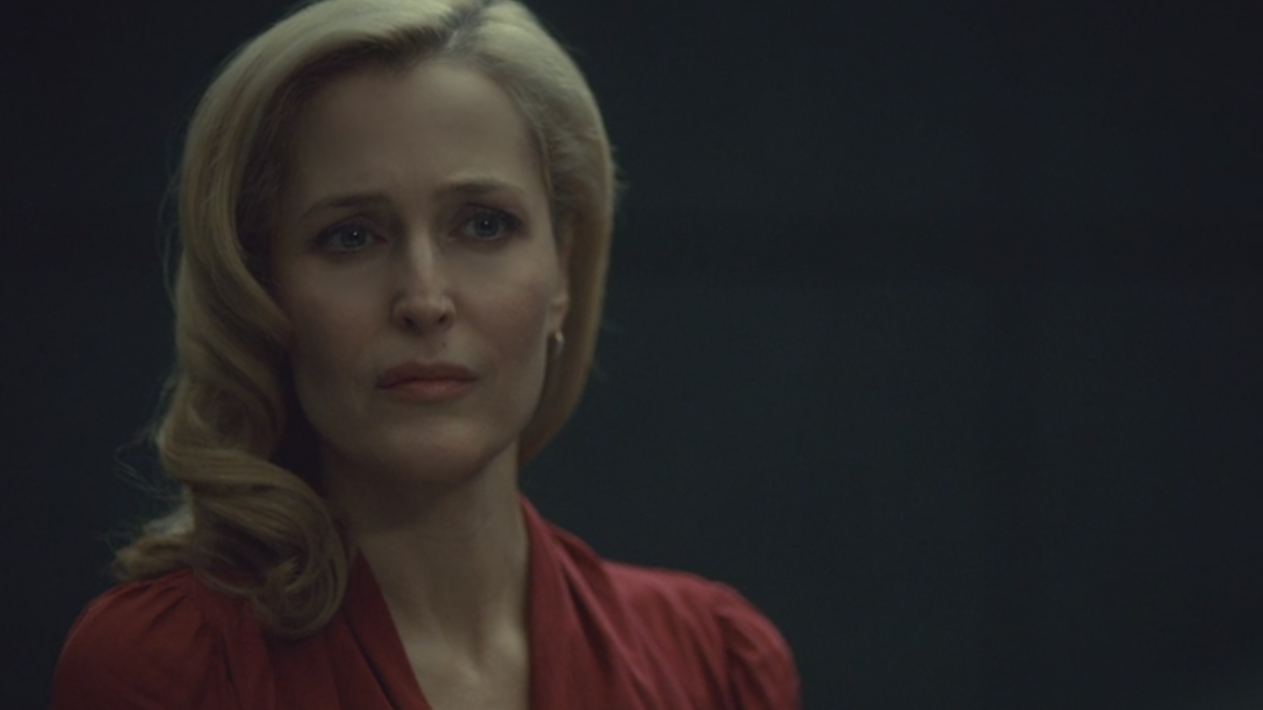 SPOILERS But as Will and Hannibal's former psychiatrist Bedelia du Maurier (a wonderful return appearance from Gillian Anderson, who literally had one day of filming available between projects) allege, Hannibal is the reason for all the chaos that surrounds him. His expertise is not just in silently killing and carving up prey, then serving it for dinner. It's also in nudging everyone around him to do the same. http://www.thewire.com/entertainment…-gross/371098/ Gillian Anderson sells Bedelia's strange mix of remorse and unapologetic frankness to a tee. She did what she had to do, yet she understands why she had to do it and how her actions bound her to a psychopath. http://flavorwire.com/457919/hanniba…recap-tome-wan These conversations have been known to produce some form of a twist in the story, which occurs with the return of Bedelia Du Maurier (Gillian Anderson). Du Maurier reveals the truth behind the incident with one of her previous patients, and how Hannibal spurred her into killing him. Her conversation with both Will and Jack adds some depth to both the plot and characters in this universe, but it also serves for a brilliant scene when she selects the word to describe how Lecter will be caught: 'whimsy'. http://www.nouse.co.uk/2014/05/17/tv…e-12-tome-wan/ tructure is the first thing that jumps out in the episode. The first half of "Tome-wan" is vintage Hannibal to me; like the first season, it excels and revels in quieter moments. Most of the first twenty or so minutes consists of conversations between two people: Will and Bedelia, Jack and Bedelia, Will and Jack, Hannibal and Mason and, of course, more than one instance of Hannibal and Will. Director Michael Rymer uses plenty of close-ups and refrains from cutting too quickly between lines of dialog in order to draw out the tensions and subtexts in certain scenes. Most notable is the conversation between Hannibal and Will in which the latter explains how the doctor has taken everything important away from him: "You don't want me to have anything in my life that's not you." In this sequence, we flit back and forth to shots of the two characters that are partially obscured by the back of the other's head. Their faces occupy just a small portion of the screen, covered by what we've been asked to believe is their physical (and personal) complement. It's a beauty to witness if just by how much it contrasts to these other conversation sequences in which there's a more deliberate separation between characters (the table between Bedelia and Jack or the various furniture Mason puts between Hannibal and himself). Read more at http://www.tvovermind.com/hannibal/h…58yoDDA89G4.99 Dr. Du Maurier(Gillian Anderson) returned, but was not able to provide much help, except to say that whatever they are planning Hannibal has probably figured it out. And Will does not seem to be as interested in bringing down Hannibal as he once was. It's hard to tell how this is going to shake out, but after this episode, I'm super excited for the finale. http://observationdeck.io9.com/hanni…ers-1577777468 The return of Gillian Anderson as Bedelia was a very welcome surprise, as we finally understood what happened between her, her patient and Hannibal years before. What a great (and in retrospect perfect) reveal that it was Bedelia who had murdered her patient, after Hannibal had used his "persuasion" to make her do so, making her yet another person he'd turned into a killer. I was curious about Bedelia warning that Hannibal would ultimately make you kill, "somebody you love. And you will think it's the only choice you have." I don't think we're meant to believe she loved her patient in any way – someone she herself says was dangerous and who she was "to a point" engaging in self-defense when she killed him. Though who knows? Maybe that relationship was even more complicated. Clearly she saw Hannibal do things, either to herself or with others, which made her certain his ultimate goal was to take things to an even darker place. http://www.ign.com/articles/2014/05/…ome-wan-review Du Maurier's oh-so-reluctant return—I don't think I've ever seen Gillian Anderson look quite so sad and worried—served as a warning of Hannibal's influence, a quiet and knowing counterpoint to Randall Tier's savagery and the potential slippage of Will Graham. While she provided the way that they'll end up catching Hannibal—"Whimsy."—Du Maurier's past with the patient of hers that she murdered under Hannibal's influence highlighted the way that Hannibal takes care not to commit crimes with witnesses, so that the only actual witness is the person who committed the crime. Hannibal's invisible influence protects him from incrimination like his transparent plastic body suit prevents him from leaving behind physical evidence. http://www.tv.com/shows/hannibal-201…-140002235908/
*Épisode 13 : Mizumono
Réalisateur : David Slade
Distribution : Mads Mikkelsen (Dr Hannibal Lecter), Hugh Dancy (Special Agent Will Graham), Laurence Fishburne (Special Agent Jack Crawford), Caroline Dhavernas (Dr Alana Bloom), Scott Thompson (Jimmy Price), Aaron Abrams (Brian Zeller), Lara Jean Chorostecki (Freddie Lounds), Kacey Rhol (Abigail Hobbs), Cynthia Nixon (Kade Prurnell), Gina Torres (Bella Crawford)…
  http://www.avclub.com/article/hannibals-bryan-fuller-discusses-bloody-jaw-droppi-204896 The A.V. Club: This episode is so tragic! Bryan Fuller: I think, for me, the overwhelming sense of everybody rocketing toward their doom is what is so powerful, in that it has a gravitational pull—the doom vortex that Hannibal has created for everybody. The strange thing talking to friends who had seen it, and seeing Gillian Anderson riding off into the sunset with him was a kind of double-edged sword in that, on one hand, they were like, "Cool! More Gillian Anderson!" On the other hand, it was like, "Oh shit. She's rocketing toward her doom now too." AVC: Did you think about playing that card earlier? BF: The intention was always to have her (Abigail Hobbs) appear in the finale. When we were trying to figure out Gillian's schedule to get her back, because we knew we wanted to have a reveal of sorts in episode 12 with a surprise witness who was hopefully going to give Jack Crawford the information that he needed to finally prosecute Hannibal Lecter, there was a brief moment when it didn't look like we would get Gillian that I was thinking, well, maybe we pull up the Abigail story and do with her what we were going to do with Gillian, and then Gillian broke her back to make the show possible. AVC: What did you see as Bedelia's role in the story of the finale and the season as a whole? BF: For me it was an interesting way to have this woman—who I would argue is the most intelligent person on the show—and she was the one who figured things out without the overwhelming evidence that Will Graham had. She was smart enough to get the hell out of Dodge, and then got scooped up by Jack Crawford later on, and when she's telling him that Hannibal is in control of this situation, I think what is happening there is she really is actually embracing her awe of this man, who is unlike any other that she's encountered as a specialist in the psychology of humankind. That is part of her role in season three is what does she expect to be getting out of this situation that continues to keep her intelligent and not just a dummy that is going along with the sexy, serial killer for reasons that are carnal. That's not what we want. This is an opportunity, actually, for her to study something so wholly unique in the lexicon of humanity out in the wild. Out in its natural environment. So I think those first episodes of season three will go a long way in rationalizing and explaining exactly what Bedelia wants and expects out of the situation and how she's going to continue to be as smart, if not smarter, than Hannibal Lecter. AVC: Where are you in the process on season three? With Hannibal and Bedelia escaping to Europe, are there any chances to film there? BF: We are absolutely exploring it. That was one of the things that I said was very important to me. If we have to even get a unit that shoots somewhere abroad for exteriors to help us sell the Silence On The Lam through-line of season three. So yes, our plan is right now to shoot abroad anywhere from three to five weeks to help create that world of them on the run in a different environment, in a different country and right now we're looking at what our tax incentives are in various countries to be able to pull that off. So you were thrown by the Bedelia reveal? AVC: You know, a little bit. I was trying to figure out who would be sitting next to Hannibal, and then, oh, it was Bedelia. BF: Well, our original intention was for it to be Abigail sitting next to him. And then it felt like, with where we were going in the story with all of the parenthood thematics, that if Hannibal had plotted this escape for all three of them, and then Will had betrayed him, it's basically like a violent breakup: This is where we were going, but you screwed it up, so I'm going to make sure that all of the happiness that was planned for us can never happen, because you betrayed me. And it is such a brutal, spiteful, vengeful, vicious act to spare this girl's life, and then, everything that she meant to Hannibal was so intrinsically tied to Will Graham that he just had to raze the Earth of their relationship. Unfortunately, that included poor Abigail. http://uk.ign.com/articles/2014/05/24/hannibal-bryan-fuller-on-season-2s-shocking-end-and-big-changes-in-season-3 IGN: Yes he did. So let's talk about Bedelia… Fuller: Our Marvel movie moment? IGN: Your Marvel movie moment, exactly! Let me get this out of the way… The flight attendant offers her a drink, but the way it's shot is a bit ethereal and the camera pans over to her but then back only to Hannibal giving it a bit of a dreamlike feel. So can you confirm this is actually happening? Fuller: Oh, yeah, yeah. She is absolutely there, in the physical, sitting next to him. It's not a dream. IGN: Okay, so knowing that, Hannibal is obviously a genius and playing amazing mind games with everyone, but he did go to Bedelia's house at one point, in his "kill suit", intending to get rid of her if she hadn't fled. Anything you can say as to what we might infer beyond that? She was gone for a lot of the season, so might some communication have occurred at that point? Fuller: Well, I think we can assume that some communication happened between episode 12 [and the finale] — between her capture by the FBI and the time she got on the flight. So, part of that, the fun in that, will be revealed in the first episode of Season 3 – exactly why she was on that plane, what is her agenda, and how she fits into the bigger story of Season 3. That's all going to be wrapped up in that first episode of Season 3, which will function almost like a pilot for a new series. IGN: That makes sense, because the ending of this episode, and where we leave off with Hannibal fleeing, feels like it will have to change the show dramatically, regardless of what happens to everyone he left behind. Fuller: Oh, yeah, it's a huge paradigm shift, and everything that we knew about the show is kind of out the window for the time being. And, you know, the exciting thing for me is that I always felt like Bedelia Du Maurier was the smartest person on the show and that she will remain in that position. Yet there is this sickening feeling of… We saw what happened to Will Graham and Jack Crawford and Alana Bloom and Abigail Hobbs when they trifled with a cannibal. They've kind of rocketed toward their doom. The feeling with Bedelia is, you know, is she rocketing toward her doom now as a part of this new cabal? What is that paradigm shift between those two characters, which I think will be part of the intrigue of the third season. IGN: Is it safe to say that we will be seeing much more of Gillian [Anderson] than we have in the previous two seasons? Fuller: Yes, that is the goal. We are hoping, depending on Gillian's schedule, that she would be a regular, but that's all down to negotiation and her availability, and that sort of thing. But, you know, I went into Season 2 wanting Gillian to be a series regular and that's definitely the intention going into Season 3, is that we would love a lot more of Gillian Anderson, because that's never a bad thing. First Trailers http://www.youtube.com/watch?v=VPi4ytN19Ow http://www.youtube.com/watch?v=3MuNCHJDUXM
SEASON 1
Réalisateurs :
* épisode 7 : James Foley (Reckless, At Close Range, Who's That Girl ?, Glengarry Glenn Ross, Two Bits, Fear, The Chamber, The Corruptor,  Confidence, Perfect Stranger, House Of Cards…)
*épisode 8 : Tim Hunter (American Horror Story, Dexter, Mad Men, Control…)
*épisode 11 : Guillermo Navarro 
* épisode 12 : Michael Rymer (Queen of the Damned, Battlestar Galactica…)
* épisode 13 : David Slade (Hard Candy, 30 Days of Night, The Twilight Saga : Eclipse…).
Distribution : Mads Mikkelsen (Dr Hannibal Lecter), Hugh Dancy (Special Agent Will Graham), Laurence Fishburne (Special Agent Jack Crawford), Caroline Dhavernas (Dr Alana Bloom), Lara Jean Chorostecki (Freddie Lounds), Scott Thompson (Jimmy Price), Gina Torres (Bella Crawford), Aaron Abrams (Brian Zeller), Hettienne Park (Beverly Katz), Ellen Greene (Mrs Komeda), Kacey Rohl (Abigail Hobbs), Raul Esparza (Dr Frederick Chilton), Eddie Izzard (Dr Abel Gideon), Anna Chlumsky (Miriam Lass), Molly Shannon (Kidnapper), Dan Fogler (Franklin), Ellen Muth (Georgia Madchen), Lance Henriksen (Lawrence Wells), John Benjamin Hickey ( Dr Sutcliffe), Chelan Simmons (Gretchen Speck-Horowitz), Torianna Lee (Elise Nichols), Demore Barnes ( Tobias Budge), Austin McDonald (CJ Lincoln)….
Promo
AVClub I'm a tofu pie : Today online Huffington Post Fangoria HANNIBAL, the new NBC series that premiered last night to positive reviews, is about as dark as network TV gets. The series, written by Bryan Fuller and whose pilot was directed by David Slade (HARD CANDY, 30 DAYS OF NIGHT), takes Thomas Harris' iconic star of book and film, Dr. Hannibal Lecter (here played by Danish actor Mads Mikkelsen) and unfolds his pre-RED DRAGON life over an entire season (if the show does well, maybe a few seasons), aiding FBI profiler Will Graham (Hugh Dancy) as he hunts serial killers while the good doc himself is quietly killing and consuming even more victims. The show has an impressive cast that's also aided by veteran actor Laurence Fishburne (THE MATIRX) and, as the series arrives in its final few episodes, THE X-FILES femme fatale Gillian Anderson who, in a novel twist, plays Dr. Bedelia DuMaurier, confessor psychiatrist to Lecter, his only outlet in which he can unburden himself of the sanguinary secrets he holds. It was a role that Anderson was perhaps born to play. "I've been in therapy since I was 14, so I didn't have to research much," the actress told FANGORIA on the HANNIBAL set in Toronto last month. "I think that experience has done the most for me. But as far as the character, I think the intensity of Hannibal informs me. I mean, he's not going to get therapy from someone who doesn't match his wit and intelligence." In serendipitous fashion, Anderson's presence acting as female foil to Mikkelsen's human monster has its roots in her legacy as Dana Scully, her beloved government paranormal investigator in THE X FILES. "THE X-FILES started shortly after SILENCE OF THE LAMBS came out, and Chris Carter told me shortly after we began that Scully was in fact based on the character of Clarice Starling. And although this character is different, something about it feels like we're on the same conversations, you know. It has come full circle. The relationship here is somewhat elusive. My character knows its serving a purpose, being with Hannibal and I think she feels protective over him. We learn that she is retired but he wouldn't accept that, so now he is her only patient. They feed off each other, if you will." Since the act of feeding is so paramount to HANNIBAL's "ick" factor, the show does not shy away from what exactly Dr. Lecter is eating or where's he's getting these meaty "protein scrambles" he continuously consumes. Anderson has her own ideas about the act of cannibalism. "I know that it's addictive," she says. "Isn't that wild? You get a taste for same species blood and something happens chemically and you want it again. It happens with mice…other animals…maybe I'm making this up? I don't know! Maybe humans are tasty. When Lions taste humans they want humans and less buffalo. And that's why I think [HANNIBAL] will do very well…everyone loves a cannibal, don't they?" Eat The Rude Official website Official twitter NBC Hannibal Tumblr EW
Episodes :
1×07 : SORBET : 9th May 2013 on NBC
1×08 : FROMAGE : 16th May
Critiques : Screencrush Variety SFChronicle IGN EW Denverpost Nerdly
Ratings :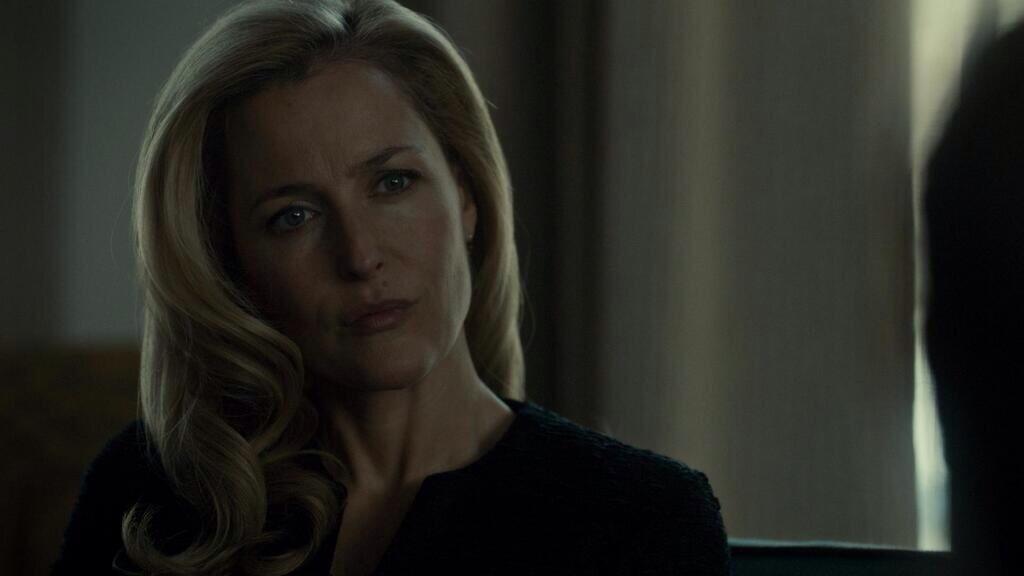 Awards :
2015 : FANGORIA Chainsaw Award : Best supporting Actress Fangoria