A Vision Of Fire (2014)
Renowned child psychologist Caitlin O'Hara is a single mom trying to juggle her job, her son, and a lackluster dating life. Her world is suddenly upturned when Maanik, the daughter of India's ambassador to the United Nations, starts speaking in tongues and having violent visions. Caitlin is sure that her fits have something to do with the recent assassination attempt on her father—a shooting that has escalated nuclear tensions between India and Pakistan to dangerous levels—but when teenagers around the world start having similar outbursts, Caitlin begins to think that there's a more sinister force at work.
In Haiti, a student claws at her throat, drowning on dry land. In Iran, a boy suddenly and inexplicably sets himself on fire. Animals, too, are acting irrationally, from rats in New York City to birds in South America to ordinary house pets. With Asia on the cusp of nuclear war, Caitlin must race across the globe to uncover the mystical links among these seemingly unrelated incidents in order to save her patient—and perhaps the world.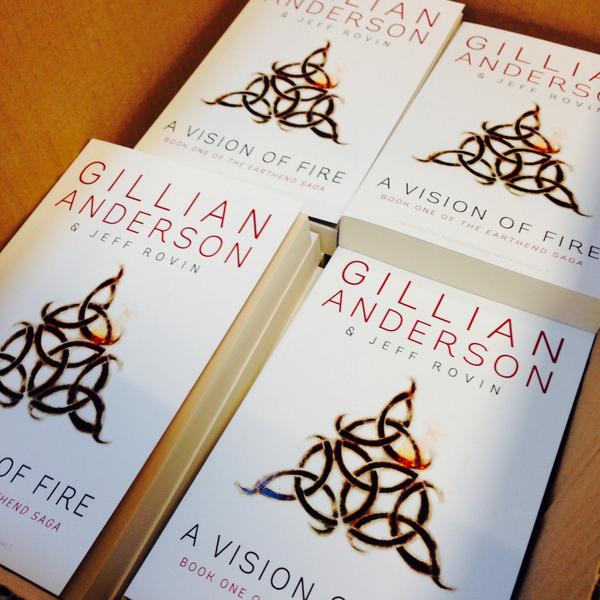 Promo :
Josh Horowitz @joshuahorowitz
New episode of #happysadconfused is up! Loved this chat with Gillian Anderson. soundcloud.com/happysadconfus… @GillianA #avisionoffire
Gillian Anderson turns over a new leaf
BBC Radio 4 Front Row
Publisher Weekly
How did A Vision of Fire come about?
I have always enjoyed writing, and had it in my mind that writing a book would transpire later in life: later than now even, and not necessarily in the realm of science fiction—in fact, not at all, really. But I was approached by someone with the idea that I might get something out there sooner if it were in a coauthorship format. That appealed to me, and I understood that, at the outset, it might be a good business move to hook the book into the science fiction genre, for obvious reasons.
How did the relationship with Jeff Rovin work?
Jeff came to the forefront of potential coauthors, and he and I met in New York one blustery day and began our brainstorming sessions. We started with the central character, who I was determined would be my age and a single working mother, and [also with the idea] that whatever we created would be filmic enough that it could translate easily to the big screen. Jeff is about 1,000% more knowledgeable about all things science fiction than I am, and quickly took our basic concepts and expanded them.
And the process of writing?
Because I was working on three different TV series at the time, it was important that Jeff laid the groundwork for each chapter, and then I added and subtracted on airplanes.
What did you mean when you said to Entertainment Weekly that "after nine years of living in a semi–science fictional universe, I think I now have an ingrained knowledge and rhythm for it"?
Just that the world of sci-fi was such a monumental part of my life. Even though I don't read it or study it, it sits somewhere in my cells, and I can call on the fascination and excitement for it at will. Films are where I get my sci-fi fix.
What worried you most about the writing process?
Well, I was worried that it was going to be cheesy, and I am pretty sure that it's not. I believe that the characters are people who are developed enough, that they are easy to care about and invest in, and that the journey is at times moving and, dare I say, profound. It's a global adventure that, although science fictional in nature, encompasses current-day issues in all corners of the world. It was important for us that we include as many characters from different cultures as made sense for the story—although I'm having to contend with that decision as I'm negotiating the accents for the audiobook!
Here's @GillianA in the studio recording #AVisionofFire ht @Simon451