Moby Dick (2011)
 Gillian a  joué dans une nouvelle adaptation du roman d'Herman Melville sous la forme d'une mini-série en 2 épisodes. Il s'agit d'une co-production internationale de 25 millions de $. Le tournage s'est effectué en Nouvelle-Écosse. Moby Dick est produit par le géant médiatique allemand, Tele Munchen Group en partenariat avec RHI Entertainment.
Rôle : Elizabeth Ahab, la femme du pêcheur obsédé par la baleine.
Réalisateur : Mike Barker ( The James gang, un coup d'enfer, a good woman, le chantage, sea wolf, Silent Witness, Playhouse Presents…)

Scénariste : Nigel Williams
Distribution : William Hurt (Capitaine Ahab), Ethan Hawke (Starbuck), Donald Sutherland (Père Mapple), Charlie Cox (Ishmaël), Eddie Marsan (Stubb), Billy Boyd (Elijah), Raoul Trujillo (Queequeg), James Gilbert (Steelkilt), Richard Donat (Inn Landford), Stephen McHattie (le capitaine du Rachel)….
Le trailer :
Diffusions :
Moby Dick a été diffusé en Australie, en Italie et aux Etats-Unis (chaîne ENCORE).
Le DVD (version anglaise) en vente à partir du 4 octobre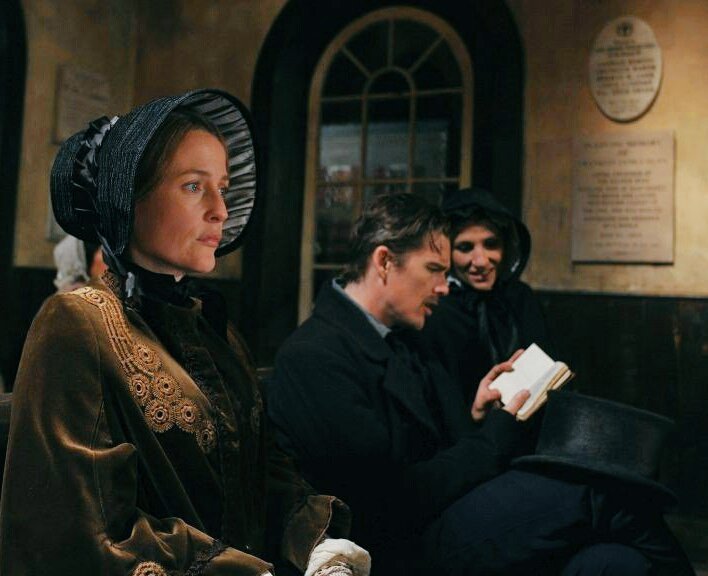 La promotion liée à Moby Dick
* Los Angeles Time : http://.latimes.com/showtracker/2011/08/goodbye-scully-hello-ahab-gillian-anderson-talks-about-mobydick.html
* CableFax : Interview-with-Gillian-Anderson_47521.html
* Bullz-eye : gillian_anderson.htm
* The Talk :
* Tonight show with Jay Leno :
* TCA Press Tour : t1379-tca-summer-press-tour-2011
* Moby Dick press conference : t1389-moby-dick-press-conference
Les critiques :
CableFax
Yes, this Moby Dick reminds us of memorable moments from classic films and television, but is that a bad thing? I don't think so, since on another level there's so much to admire here. There's the camera work on the open seas, and the richly detailed ship, a glorious vessel really. The music and the costumes are fine, too, despite the latter spending  much time soiled by the elements and covering unshaven, unkempt sailors (well, the ship was asea for nearly one year).  Clearly this is not a story for the clean shaven, and appropriately there's much filth. Starz Encore gets the atmosphere right, too, with sets featuring a noisey, dirty Nantucket inn, complete with the requisite grogs, tankards and wenches. There's also a Nantucket church whose pulpit is a ship's bridge, mounted nicely by Donald Sutherland as a preacher who foreshadows the Pequod's voyage, noting that men can make plans, but there are forces far greater that control destiny.
And of course there's an appropriately menacing whale and plenty of action, as in when sailors hit a whale with a harpoon, which is attached to a rope. The ensuing ride can be thrilling or a ticket to an early, watery grave.
These and more combine to help you forget you're in the digital age, even though this whale is a creature of our computer-generated times. Still my guess is viewers will feel that they're  on an exciting and possibly dangerous ride, circa 1850. And if  being able to lose yourself in a different era is a test of  good entertainment, then this Moby Dick has done well.
Yet when you return to reality and look at this Moby Dick with contemporary eyes, you find its characters and script mesh well with your current world view. We're guessing Melville, whose novel failed to gain great attention in his lifetime, would be pleasantly surprised that his story, told with care, creativity and more than a  little bit of bravado by Starz Encore, still resonates.
LSJ.com
Beautifully filmed, this two-night miniseries has a gifted cast stepping into classic roles.
William Hurt is a deeply layered Captain Ahab — bright, passionate, caring, blindly obsessive. Charlie Cox is young Ishmael, who is starstruck by the captain; Ethan Hawke is Starbuck, who isn't.
There are smaller roles on shore for Gillian Anderson, Donald Sutherland and more. But it's once "Moby Dick" gets to sea that it becomes epic, visually and emotionally.
The New York Times
The camera is mightier than the pen in this film. The writing doesn't really matter. It's the vivid, evocative images of life at sea, midstorm and even under wilting sun and windless skies, that best pay tribute to "Moby Dick."
The Wall Street Journal
This being a two-night miniseries, the richness in Melville's storytelling, with entire chapters about doubloon gazing or elaborations on various characters, doesn't get much space here. There is only the core narrative of a man willing to die and take others with him for the sake of what Starbuck calls "vengeance on a dumb animal." Or, as contemporary viewers might well interpret it, to commit suicide-by-whale.
So let the purists rant if they will about what is not here. This is a tale well told in the time allowed. Who cares that we see little of the whaling industry (though man vs. whale clearly was a fair fight back then)? Or that Queequeg sometimes lapses into the accent of a Fu Manchu?
Like the music of Mozart, "Moby Dick" connects us to our ancestors, reaching across the generations as few things can anymore. Watching this production with the same thoughts and emotions as they did: Who could ask for more
AOL TV – What To Watch – TV Picks for August 1-7
This lavish literary adaptation sees William Hurt and Ethan Hawke in pursuit of the great white whale in a three hour miniseries that will air across two consecutive nights. Donald Sutherland and Gillian Anderson also star.
New York Post 3/4 stars
Hurt chews up the scenery with the same ferocity that the massive whale, Moby Dick, used on Ahab's leg.Ethan Hawke as Starbuck is reduced to a big complainer. Ishmael here is an innocent who, along with Queequeg (Raoul Trujillo), is in cahoots with the mad Ahab — while the comical, inspirational shipmate Stubb (Eddie Marsan) is, in this adaptation, turned bizarrely into a sadist who gets great pleasure in flogging dying seamen.
Dopey? Yes. But the action scenes are terrifically exciting and very well done, and Hawke does his damndest to survive the overacting of Hurt and the underacting of Cox, who is so wooden he should be the one hobbling around on that wooden stump.
"Thar she blows?" No. Lots of fun.
Star Tribune 2.5 / 4 Stars
It's been a while since I read my Herman Melville, but I still recall the 1851 novel "Moby-Dick" as a whale of a tale thanks to the author's ability to weave powerful Shakespearean language with a sense of adventure and a hint of dread that something lurks beneath the waters a lot more intimidating than Bruce the Shark of "Jaws."
Unfortunately, none of the dozen or more film adaptations captured that power, and the latest,  is no exception.
It's hard to blame director Mike Barker, who does such an effective job of imagining the Nantucket harbor that you can almost smell the sea air. The all-star cast is also impressive, although Donald Sutherland and Gillian Anderson only turn in cameos. In the end it's up to William Hurt as Capt. Ahab to carry the film — and he can't pull it off. Maybe no actor can (although I'd like to see Russell Crowe give it a shot). Ahab's obsession with capturing the white whale despite the cost is as rich a metaphor as we have in American literature. Celluloid can't do it justice. NEAL JUSTIN
BostonHerald.com
Taking a cue from the original "Jaws," director Mike Barker teases the behemoth's appearances. Often just a glimpse of him skimming beneath the surface of the water is frightening.
When he finally emerges from the waters at the close of tonight's episode, he is a fearsome sight, rendered in impressive CGI. In one great shot tomorrow, with a slap of his tail, the whale wipes out one fishing vessel and its crew.
The miniseries' finale, with the leviathan attacking like God's mighty fist personified against the vainglorious Ahab and his hapless crew, honors Melville's horrific vision.
The voyage, however, hardly seems worth the destination.
NYDailyNews.com 3/5
Wrestling Herman Melville's epic novel "Moby Dick" into a miniseries is almost as challenging as hunting down and killing a great white whale.
But the Encore movie network decided to think big in its first original miniseries, and by harpooning William Hurt to play the psychotic Captain Ahab, it turns the story into a decent action flick with a few larger lessons about the corrosive impact of obsessive vengeance.
Bloomberg 2.5 stars
Director Mike Barker handles the action scenes effectively, but the tale's long stretches of shipboard squabbles and rough sailing make for a wearying voyage.
The Washington Post
Though the film is long, keep in mind how long it could have been. The Pequod is a-sea for more than a year, its crew taunted by glimpses of Moby. With so much time elapsing between fearsome encounters with the beast, the movie nevertheless sustains the anxious tension that has always been "Moby Dick's" allure. The screenplay must necessarily winnow and reduce, yet the bones of the story are undeniably compelling. Both nights of "Moby Dick" sail along at a nice clip.
The titular whale? Naturally he's all CGI animation, but he's impressively rendered. You're supposed to root for him, right? (Or did I really miss the point of "Moby Dick"?) Perhaps the highest compliment I can pay this version is that it makes me want to go back and read the book — but I make no promises about finishing it.
Los Angeles Times
The set pieces are well realized: The whaling town where Ishmael and cannibal harpooner Queequeg (Raoul Trujillo) meet — Shelburne, Nova Scotia, fills in for New Bedford/Nantucket, Mass. — has a nice bustling energy and persuasive detail. The whaling scenes, when they finally occur, are quite exciting and dynamic, and Moby Dick himself is one big mammal.
But in the end, this is another story of the one that got away.
The AV Club C+
CliqueClack TV
This was neither a boring Moby Dick nor a junked up cheesy version, either. It was a better interpretation containing many more pluses than minuses than its predecessors. Encore did a terrific job in doing this piece and I was not disappointed.
If you missed it, catch it on a rerun. I know I'll be going back to it from time to time, Gillian's 5 minutes of air time notwithstanding.
Audiences : environ 800 000 spectateurs sur la chaîne ENCORE